It's the beginning of the year and you know how this goes.
We clean out our files, throw away old documents, buy new planners and calendars and journals. We open our eyes on New Years Day and say to ourselves, "This year is going to be different. I'm going to meet my goals. I'm going to plan for my goals."
Is that what you said to yourself? Admit it…I say it every year.
One of the things I think we tend to overlook when planning for the year is how to be more productive. I don't mean just doing more work. Being productive is really doing less but accomplishing more.
Being productive is also knowing how to use the right tools to help you accomplish more while doing less. But what exactly are the 'right' tools, you may be asking. Well, that's a loaded question. It really depends on where you are in your business and your business needs.
Productivity tools can help you;
Concentrate more on the parts of your business that you really enjoy and that make me money—such as coaching
Automate recurring, repetitive tasks
Eliminate or reduce mistakes
Increase consistency
Save me time
Let's start at the very beginning. You're a new coach and you want to set up your business so you can work efficiently and not spend your wheels. Here are 5 productivity tools you need to get you started.
1.Automated Scheduling Tool
Booking and scheduling clients is first and foremost the most basic need of any coach—so much so it gets taken for granted. Coaches tend to think of this as a single process: "The client makes an appointment".
A good scheduling tool will do much more than that: It will fully automate client-coach interactions while making it feel more personal and attentive than you can realistically be in person.
The right scheduling tool will eliminate:
Mix-ups
Chasing after clients
Forgetting to send reminders
Forgetting to update your appointment book if a client re-schedules
Forgetting to contact the right team member
And so forth.
It's like having a super-efficient VA who works 24-7, providing top quality customer service while you concentrate on the things that personally fulfill you.
Features needed in a scheduling system:
Automatic reminders
Automatic notification of schedule changes or cancellations
Allows clients to cancel and reschedule without having to talk to you in person
Assign tasks to specific team members, if you have them
Ability to set hours you are available
And, kicking it up a notch, choose a scheduling tool that also…
Allows you to designate different appointment types
A few automated scheduling tools are Acuity and vCita.
2. Online Calendar
Google Calendar is a good choice. It is a web browser extension that you can easily install.
The beauty of Google Calendar is that it is clear, concise and integrates with other software and apps such as the Acuity and vCita Scheduling. In other words, if a client makes an appointment via your scheduling link, it will instantly appear in your Google Calendar, if you've synced it.
And it's free.
3. Payment Processing Tool
Of course, you want to be sure you have a way to accept payments. You can use either PayPal, Square, Stripe, or Moonclerk.
4. Conference or Video Call Tool
It will help to have a conference and/or video tool to perform your coaching calls. When you set up client calls, you also need a way to record them.
If you do group coaching or small VIP groups, a platform that allows multiple participants on a video or audio call is a 'must'.
You can use; Skype, Zoom, or FreeConferenceCall.com.
5. Email Marketing Tool
I'm sure you've heard the saying, "The money is in the list". Well, the list is within your email marketing tool. This tool allows you to collect email addresses of people interested in your products and services. It also allows you to nurture the people on the list to help with the 'know, like, and trust' factor which helps turn followers into paying clients.
There are many different providers for the email marketing tool. You can choose from the following:
Aweber
ConstantContact
MailChimp
Mad Mimi
There you have it, 5 must have productivity tools to rock your coaching business, even if you're new to the industry.
Your Partner in Designing Your Victory!

Are you still stuck? Sometimes procrastination can keep us stuck indefinitely.
It's time to move past procrastination and create the business and life you most desire. Your mission, should you choose to accept it is to get the help you need to push past procrastination and start living your victorious life. How do you accomplish this mission? Check out my 6-part audio training, Overcoming Procrastination – The Art of Getting Your "ISH" Done Now.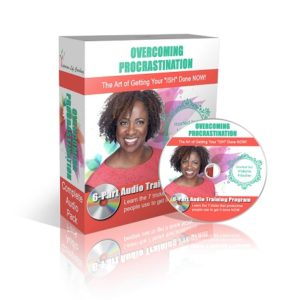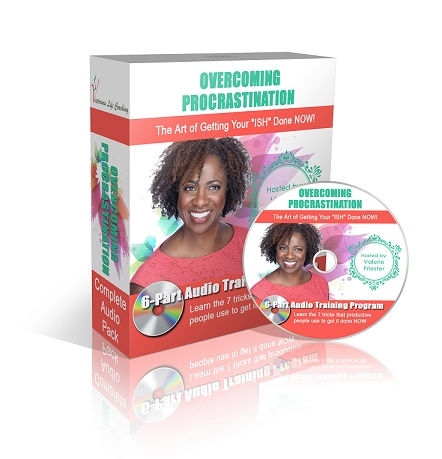 Of course, there's no "quick fix magic pill" that will suddenly cure a lifetime of deeply ingrained patterns. But with the right tools, a simple shift of the mind and some easily implementable tactics, anyone can overcome procrastination.
And now those tools and tactics are readily available for YOU, in a clear, concise and easy-to-follow format.
Overcoming Procrastination is a 6-part Audio Training Program designed to help you get up and get going quickly, so you can regain control of your days, your life and your happiness.
Check out the details here- Overcome Procrastination
Connect with me…
Facebook Business Page: https://www.facebook.com/ValeriePriesterVLC/
YouTube: https://www.youtube.com/valeriepriester
———————————————————————————–